Motorbike Diaries: a Fool Man's Adventure
France, England, Belgium, Germany, Austria, Switzerland, and France again
Jul. 29, 2016
There and Back Again
Saturday, 2nd of July. I pack, in no particular order, a woollen undershirt and sweater, three t-shirts, three boxers, seven pairs of socks, a hat, thin trousers, a pair of moccasins, rain pullover, a cotton cardigan, one high visibility jacket, a bottle of chain lube and a bottle of water, some hygiene and electronics gear, one small backpack, swimming trunks, one book. Running ahead, I do not miss anything but decent tea and I make use of everything but the undershirt and the visibility jacket.
Courageous packing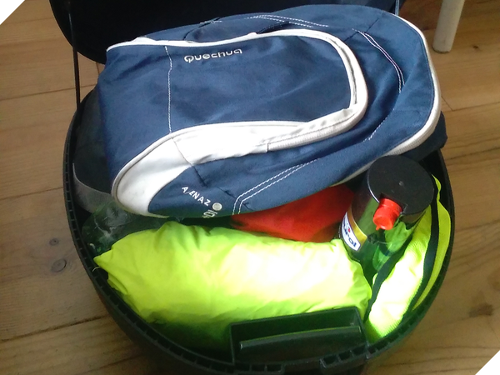 The first leg of my journey is short. It takes only about half an hour from The Hague to Rotterdam, where at a friends' place I will be watching Germany/Italy quarter final. Why highway, you might ask. I am testing a new Givi windscreen for my Kawasaki Versys 650, quietly hoping for some reduced buffeting in comparison with an MRA Vario (it turns out the buffeting is not reduced; I fantasise going for a sports seating position with my next bike).
While making tea at my friends' house, I attempt to destroy the cupboard and the tea box, and though both attempts are nowhere close to a success, I am relieved of duty. In two days time I will be in Oxford, where I am banned from even pouring the tea myself. I like making tea but my diplomacy skills prove insufficient to lift the sanctions.
Sunday, 3rd of July. The rain is pouring down in big lumps, enclosing my motor in a water cocoon. Wisely, I am seeing this misery from behind a window, relaxing on a couch and checking the weather forecast. It will be dry in half an hour.
It has been dry the whole day in the end, and about 20 degrees—perfect motorbike weather. Highlights of the day? It is scary to ride through a 6.6 km tunnel if one forgets to take his sunglasses off. And you know how they say that with a motorbike you go places? I fully concur. You constantly get lost and so you go places. I went via Zeeland, and then along the Belgian coastline, starting from Knokke–Heist. The Belgians have ruined the beach in Knokke with storage boxes. The scenery became nicer later, but I was getting tired and just wanted to get to Dunkirk where I am staying the night (in an apartment that shows poverty).
I am watching France/Iceland quarterfinal now, alone. Why didn't I book something in the city centre, to join some arrogant and unfriendly French folk in a pub? And those French of you who can't fathom how the rest of us come to such sad conclusions, try going to a restaurant where the waitresses are preparing the tables, where the smell slipping from the kitchen is inviting, where you are greeted in French, and then try replying in English. Much to you surprise you will discover the restaurant is closed for you.
Monday, 4th of July. I have arrived 2.5 hours before my DFDS ferry, just in case. It is not that I expect delays, it is that I get uncomfortable if there is no room for delays. Interestingly, they let me take another ferry that is departing within half hour. I am killing my time on the ferry by counting containers on the passing Maersk and CMA/CGM ships. 14 by 4 by 10 teu on the upper deck makes it 560 teu. Small ship. Oh my, I see the white cliffs of Dover. The last time I saw them, it was under sail and in 5–6 Beaufort. Now I am on a huge ferry and the sea is as flat as the Netherlands. On this sad note, it is almost time to disembark.
It has taken me three hours from Dover to Sevenoaks via country roads, with many stops to check my bearing on the phone. I will be switching to M25 now, otherwise I will be late for dinner and too tired to ride safely.
My right mirror is loose and folds at highway speeds. The overtaking manoeuvre needs an adjustment. Unfold the right mirror, check ahead, check the mirror, check ahead and to the right, indicate, check the mirror (if already folded, unfold first), check ahead and to the right, change lanes, check the left mirror, switch off the indicator. Fortunately, not much overtaking is necessary as I spend a lot of time filtering through traffic jams on M whatever.
Tuesday, 5th of July. The parking space in Oxford is limited.
Oxford Parking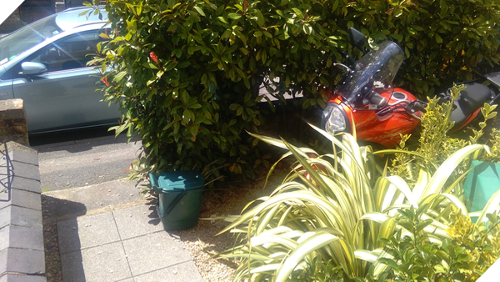 Friday, 8th of July. From Oxford to Geel on highways, I am really tired at the end of the day from all the noise. At my friend's house I meet a friend of their parents with whom we have a disagreeable discussion about other intelligent life in the universe. I hold the mainstream view that there is other intelligent life somewhere in space and time, albeit if chance plays a large role in its formation and the lifespan is limited, the nearby and now could be extremely unlikely. He says he has encountered aliens several times in his life. I wonder, if we as a society still had a culture of Greek gods and not that of X-files, would his interpretation of his experiences be different? More than that, we already have French. Do we need other aliens?
Saturday, 9th of July. I am doing nothing today, good stuff. I call three nearby shops and at one they have a windscreen spoiler in stock, Wunderlich 3D. Running ahead, the spoiler solves most of the wind nuisance. Jolly good stuff.
Sunday, 10th of July. I burn my hand a little bit on a giant slide for kids, somewhere in Belgium. It is now difficult to put a motorbike glove on. On the bright side, Portugal wins the finals.
The Fellowship of the Wheel
The mean, the old, and the alien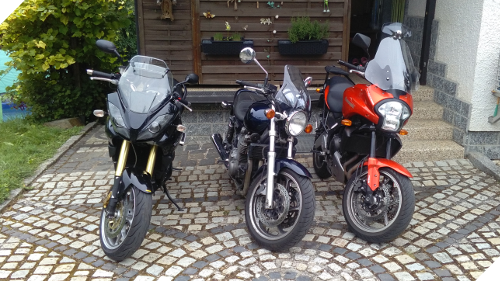 Monday, 11th of July. We hit the road with a friend. Geel to Cologne by highway, then various roads to Kassel. We departure at 9 am and arrive just after 5 pm to the Hercules monument. There we meet a third friend, discuss the history of the monument, and my friends continue for a little while driving in random directions. We end up in Melsungen, with a view over a river. The town is eerie, mostly devoid of humans and populated by Pokemon hunters.
Tuesday, 12th of July. Lesson no. 1: do not rent accommodation next to a railway track. The day continues with a stochastic route converging on Reurith. I clearly prefer a different way of pilotage in comparison with my friends. I fancy first planning a route and then following it, even if doing so requires extra stops to consult the maps. My friends like to ride first and foremost even if that means taking random guesses and detours. Evidently, none of us has a bike-mounted navigation.
The host of tonight—possibly a future relative of one of my friends—offers us a mix of wine, whiskey and honey. The drink doesn't taste as bad as it sounds. We also savour some locally brewed pilsner (a very good one, in fact), and a bottle of wine from Francen. The wine is not as sweet as some other German whites but still I feel it would be best accompanied by fruit. I sleep very well this night.
Wednesday, 13th of July. So, I have signalled my friends that I am stopping to don my rain gear. They acknowledge and then they leave me behind, Top Gear style. Blithering idiots.
We have had a wonderful day of driving though. The roads going left, right, 20% up or down, through the fields, forests, and stone paved village centers, along the rivers and railway tracks. My friends' approach to navigation pays off. We have stopped at a local vineyard close to Zeil am Main. The girl refused to sell us a glass of wine because we were on bikes. With all due respect, she is a poor economist: we bought beer instead in the next village (the legal limit in Germany is 0.5 per mille).
Tonight, we are staying in Spalt.
The beautiful town of Spalt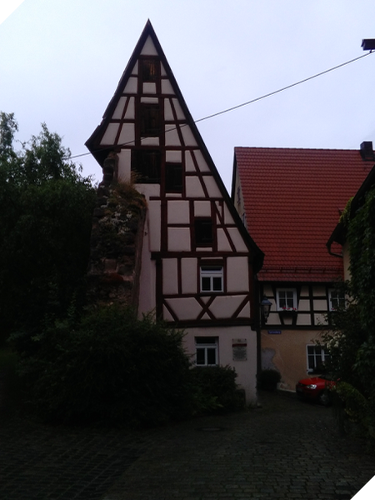 Everybody here seems to be older than we are. I wonder what the population dynamic is for such small towns. When I am writing these words, already in bed, I appreciate the colloquial piece and quiet. But when we went out for dinner, I rather missed the buzz. Spalt is no Barcelonetta. And this sharp observation raises the most important question of the trip, why am I doing a motorbike journey with two other dudes in the first place instead of clubbing at a seaside location? I grow older but no wiser at that, it seems.
Thursday, 14th of July. To Salzburg, friends! Wait, it rains quite some. Let us see how enthusiastic the guys are. Very enthusiastic, but in just under an hour they come to their senses and stop at a bus stop. We are all waiting for the bus now, I guess. Some of us are waiting with frozen hands. Lesson 2: install handlebar heating before going on a trip.
No vineyards or local breweries today, it is a MacCafe, the only place that could be spotted through the rain and fogged visors. Fortunately, in the afternoon the rain mostly stops and we reach Salzburg in dry moods.
We are playing Settlers of Catan tonight. I don't like this game because I never win in it (except this one time as it happens out to be). The first turn determines the rest of the game and I am too slow with my thinking to make the first turn right. The life gives more chances to correct mistakes than the Settlers of Catan do.
Friday, 15th of July. What book to take on a journey that is both small in size yet can be read for a long time, and which is not a Kindle? Indeed, it is "On formally undecidable propositions of Principia Mathematica and related systems," by Kurt Gödel.
It is raining this weekend in Salzburg and its surroundings. One friend is going back to Holland on Saturday. Another friend is taking me to his cottage in Öblarn, with an old Subaru. It is warm and dry and mostly quiet in Subaru.
Saturday, 16th of July. There is Aufest in Öblarn, folk dressed in traditional garments, excellent life music, seitl bar, beer bar, some wine for gourmet and a tier. We have a jolly good evening, I dance waltz in motorbike shoes.
Sunday, 17th of July. With some more friends who have joined us for the weekend we take a short walk in the rain in Kleinsölk national park. It is a lovely place, I am inclined to come back another holiday for a longer walk. Smaller attractions like this national park might be less spectacular but they are also free of tourist crowds and we value that. I remember, the other day sometime in May I had a two–three hour walk to a lake high in the mountains in Andorra. There was not a person to be seen.
Monday, 18th of July. We are back in Salzburg. It still rains and I spend the whole day in a café. Or, that has been the plan given the weather forecast. As a matter of fact, the sun is shining. My friend needs to do some work today, so I am busy with essential maintenance: shaving, clipping nails, doing laundry (a modern man requires much more maintenance than a modern bike).
I am sitting on a bench in Bastionsgarten, selectively looking at the passersby and contemplating about the Gödel's book. I've finished reading it (I've skipped the introduction written by some other dude, because I could not comprehend it, the original paper itself is much more clear). So, we can explicitly construct an arithmetical equation, which will not hold for any given number that we try. However, if we suppose this equation does not hold for all numbers, then it logically follows that there is a number for which it does. As I think of it, some infinities help derive results that approximate our finite world well, other infinities are completely useless. As an economist I have always known that models should be used with care as they have boundaries beyond which they fail to work. Why should it surprise mathematicians that one of their models, that of arithmetic, has boundaries as well? Anyhow, I remember there is a wine bar someplace across the river, I am heading there now.
The Return of the Rider
Tuesday, 19th of July. Me and my friend from Salzburg, with his girlfriend on his back seat, are heading down to what must be one of the most expensive roads in Austria: Großglockner Hochalpenstraße, 25 euros per motor. Later in the day they go back to Salzburg and I continue west to Zurich, with the idea of visiting a former colleague of mine. Presumably, Switzerland has nice roads and expensive coffee, which you normally buy with some other country's tax money, but today it is expected to be a land of heavy rain and thunderstorms for the weeks to come. Yike! I guess I just think of myself a sailing boat tacking through the corners and stay happy in doing so. (On Ibiza it is 30° and sunny.)
Großglockner is nice, the best road so far. The scenery is fantastic, but the ride is demanding so you cannot enjoy the scenery. We take our time and arrive there after six, the road is mostly empty on the way up and completely empty on the way down.
Wednesday, 20th of July. Today is the last sunny day in Switzerland. A bit of a highway to gain some leeway in my schedule and to cool down in the Italian heat, Stelvio pass, Umbrail pass, Fuorn pass, Albula pass. A day of practicing hairpin turns and I am still rubbish at it. As a bit of a background, I have also failed figure eight during my motorbike exam. So, there is no hope.
Stelvio was nice but busy, Umbrail was empty and on the way down, with a good view of the empty road—fantastic. I am not joking here, just like the weather, the number of push bikes, motorbikes, supercars and romanian people carriers totally depends which side of the mountain you are on. Albula might have been better than Umbrail, but then the roadworks began.
The bill at a restaurant is CHF 69. A poor man should not go to a Michelin recommended restaurant in Switzerland. I would suggest instead the one in Besalú, where you seat under a fruit tree with a view over a medieval bridge and enjoy the olive oil that comes from the family that manages the restaurant.
Thursday, 21st of July. The clouds come but the rain never does. Today, it is Oberalp pass and Susten pass. Susten pass is basically a racing track except you cannot race there given that the Swiss speeding fines are stratospheric. I take it easy and stop at around 3pm in Meiringen. I then proceed to spend a quarter of an hour searching for a bottle of wine at Migros…
Tonight I am having a local Swiss specialty: beef Sichuan style. What puzzles me, if you go to a mediocre Chinese restaurant, the food always tastes the same no matter whether the restaurant is in the Netherlands or in Switzerland. Maybe these are three dimensional projections of the same multidimensional restaurant?
Friday, 22nd of July. Rather to my surprise I have discovered yesterday that Reichenbach waterfall, the one from the Sherlock Holmes stories, is actually in Meiringen. I was very much fond of Holmes stories as a kid. As expected, the place is very touristic:
Anyone can be a detective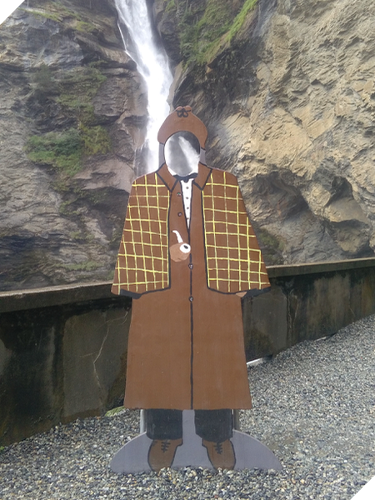 However, if you happen to be in Meiringen, do not despair. All the excitement you want (and some more for those of us afraid of heights) can be obtained at Alpbachschlucht path, there the stairs are carved into the mountain on both sides of another waterfall, the one closer to the town. You get to be closer to the action there in comparison with Reichenbachen fall. Wearing office moccasins is recommended for complimentary experience.
Saturday, 23rd of July–Monday, 25th of July. I travel a short distance to Baden and stay there with friends and their kids for a few days. The Switzerland around Zurich is flat and boring to ride around. I annoy other road users by strictly sticking to all the road rules.
Tuesday, 26th of July. I cross into France at Mulhouse, then ride to Guebwiller where a national park of the same name starts. At the moment of writing, the road between Mulhouse and Guebwiller is the most patched road I have ever seen. You can cut any two by two meters from the road and comfortably place it in a museum somewhere between Mondrian and Miró. The national park itself is nice. If I had such a collection of curvy roads next to the Hague, I would regularly go there. I mostly enjoy the road from Le Markstein to the Kruth–Wildenstein lake, number D27, and then up via D13b. French motorbike police concurs with me in liking D13b.
I arrive to Nancy via country roads around 6 pm. A very friendly and fashionable old lady suggests I park my motorbike in the vestibule (it is one of those old French houses with sky high ceilings), she seems completely unaware that a 20 cm step followed by a narrow door would be a challenge for a tired novice rider. I succeed but a neighbour complaints and I have to roll the motor out again. An Austin Powers u-turn ensues.
At 10:45 there is a light show at Place Stanislas. While waiting, I have some local ice cream, decide I am hungry, have some red wine and shrimps risotto. The wine is good (Côteaux Bourguignon "Duc De Belmont"), the risotto is not bad. The light show is majestic, something to delight your girlfriend with.
Wednesday, 27th of July. I ride some country roads from Nancy to Citadelle de Montmédy, they go up and down through fields, easy forests, and are primarily straight. I have never ridden a Harley Davidson—own liability is bizarrely high if you want to rent one—but I imagine these landscapes and roads in northern France are a perfect country to cruise a Harley Davidson. As for the Citadelle de Montmédy, it is an infant version of Monestir de Montserrat: it stands on a much smaller hill, reveals less of the country around, and features fewer tourists (still, I spot three cars with Dutch license plates).
I stop in Namur for the night. My host lets me park the motor in the garage at her work, for which I am grateful. While I was waiting for her—I had arrived earlier than agreed—one super annoying and rather chubby kid attempted to play with my motor even with me next to it. I guess in the States I would be allowed to shoot the kid in defence of my property… The kid eventually vanished but I was still worried he helps himself to my motor when I am not around.
Local food places with good ratings are either fully booked or on holidays, so I dine at Ogawa, which is better and cheaper than your average Japanese restaurant in the Netherlands.
Thursday, 28th of July. My gloves stink, my helmet stinks, my brain is tired from all the wind and motor noise, my left knee is in a dire need of rehabilitation (my motor is somewhat short for me), it is time to go home. I reach Den Haag in under three hours on a highway, just as Google predicted. It is drizzling lightly, welcome home.
I change my motorbike to my push bike, my heavy kevlar jeans to old and comfortable jeans, and I go to a Chinese place I like for a bowl of noodle soup. It is time for a resume.
Firstly, I appreciate better now what Phileas Fogg has achieved. I have only ventured to Salzburg and back, and my journey required 26 days. Maybe it is only fair that I do not have close to a two million Euros on my bank account for betting.
Secondly, the car is better than the motorbike. Je suis désolé mais je dis la vérité. The car is less painful and less miserable, it allows you to bring back home pilsner from Germany, schnapps from Austria, a good looking passenger from Italy and cheese from Switzerland, you can take a decent camera onboard instead of the pathetic phone camera (I do admit to buying one of the cheapest phones available), and—ultimately—the car is plain faster on curvy roads. On this bombshell, it is time to go to the American Book Center and buy some decent SciFi.